TIME FOR BARRELS AT BEL OMBRE!
Tune into the liveticker for the finals here!
Report: Jim Gaunt
Photos: Ydwer van der Heide
Videos: Mintautas Grigas 
DISCIPLINE: Kite-Surf wave
JUDGING CRITERIA: Pure wave – 20 minute heats / best 2 waves count from 15 possible waves
WIND: 14 – 18 knots – riders on 10 – 12m kites
WAVES: Just about as big as this particular reef can hold beyond the Heritage Bel Ombre lagoon. Peaky, clean and cross-shore.
After an enthralling day of Freestyle final action on Monday, we switched back to the continuation of the Kite-Surf discipline, with the men's single elimination out on the reef behind the Heritage Lagoon in Bel Ombre.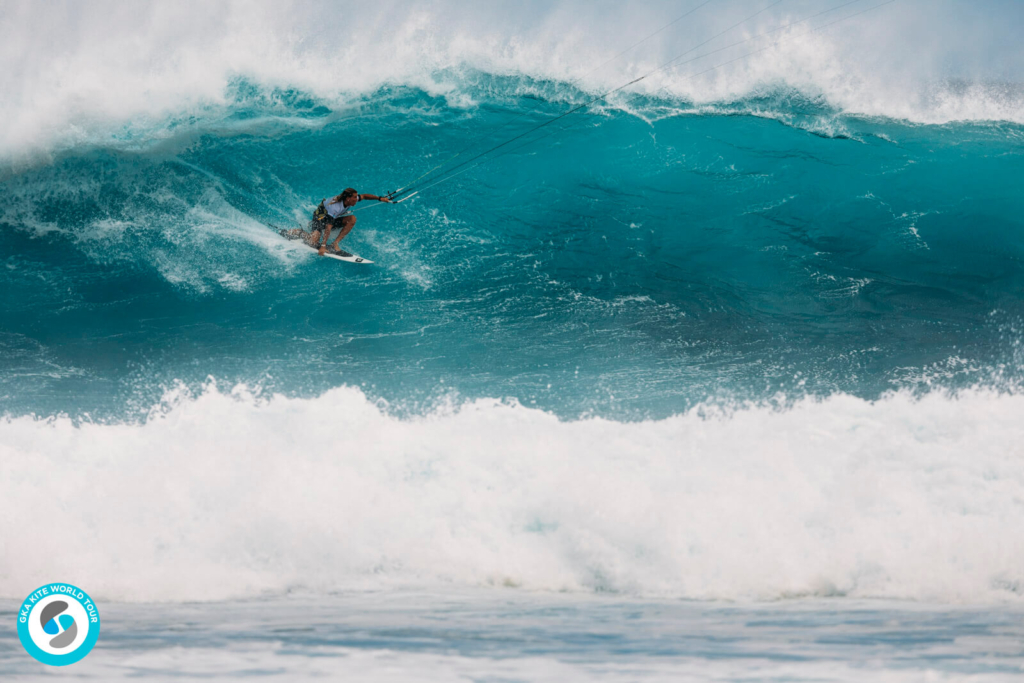 Willow River Tonkin – Gunning
There were some really big waves coming through, challenging the reef to hold up the faces as long as possible. It took a while for most riders to build their confidence through the 20 minute heats in these shallow waters, working their way up and down the big marauding faces.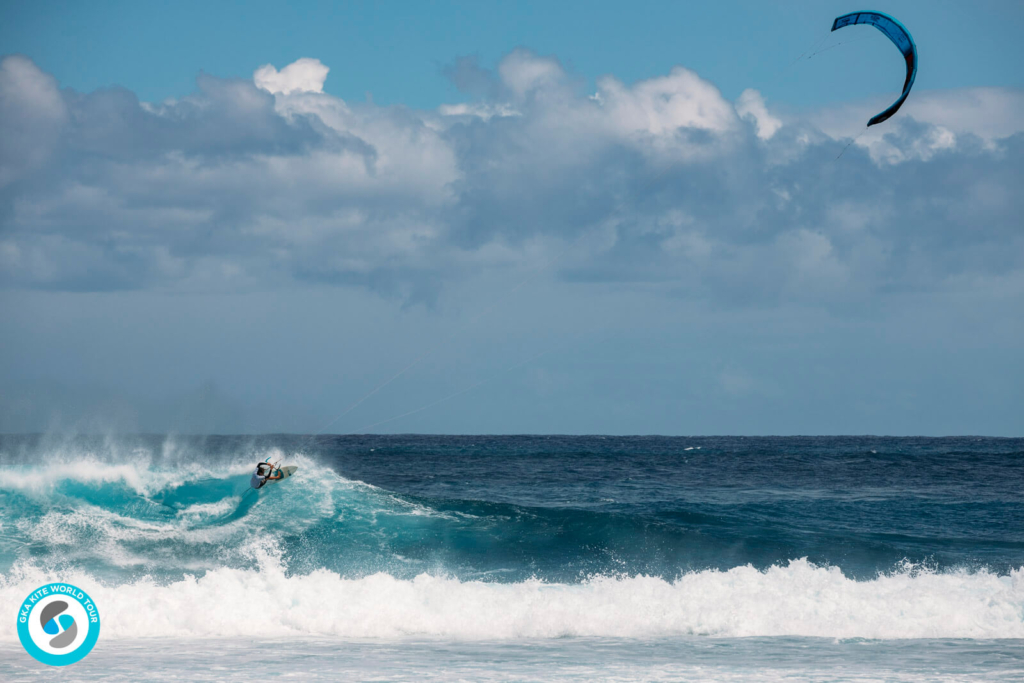 Charlie Wise
Francesco Capuzzo won his first heat this morning and was the first rider to update us on how the conditions really felt:
"The wind is shifting a bit, but okay and the waves are quite big, though closing out occasionally. If you pick the right one it's fun because they're between two and three metres on the face."
The waves continued to beat in, holding form and size before becoming playable, steeper and quicker for the final 40 metre sections. The predictability of the foam, breaking left to right as we looked at it seemed consistent – but for the riders it was difficult to manage the moment to either start linking turns, or delay until the time to pull the pin, take a high line and try to thread the barrel.
Jeremy Chan, a local rider, infamous for having knocked Airton Cozzolino out of the competition in 2017, once again used his local knowledge to show the judges how to really work a wave all the way to the inside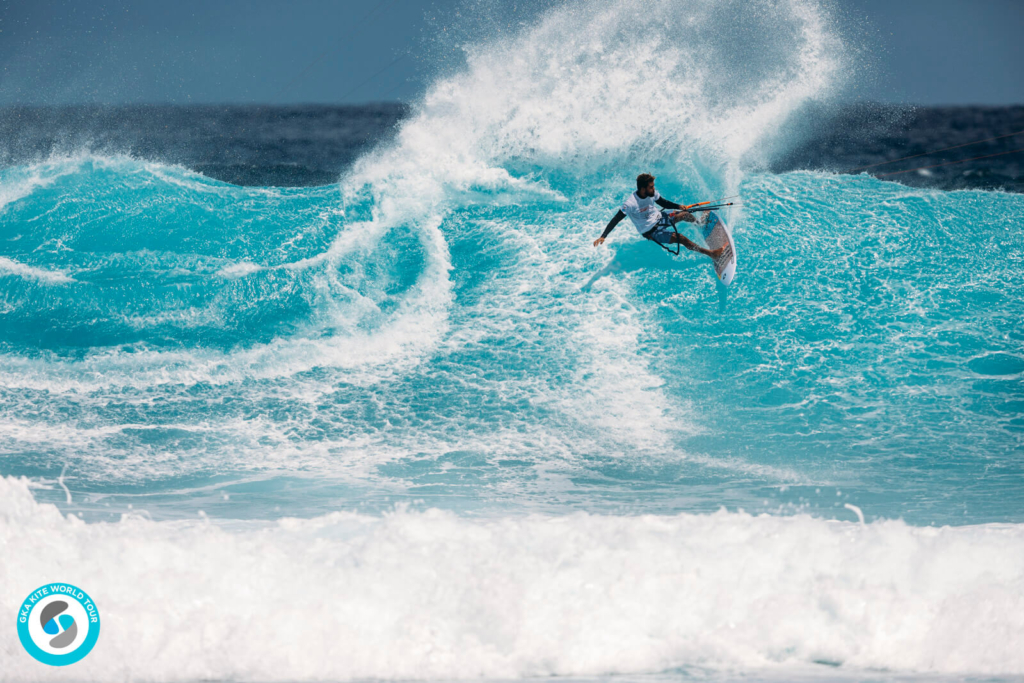 Airton – Fanging it
When Airton Cozzolino entered the competition in heat 8A, suddenly the waves looked different; somehow more approachable and easier to read. They weren't, but judge Torrin Bright commented to me that his extreme mastery to maintain line tension wherever he is on the wave, whether punching the lip and dropping back in from three metres up, or gouging the hell out of a bottom turn, is testament to just how many hours that man spends on the water in his life. It's more than anyone I've seen.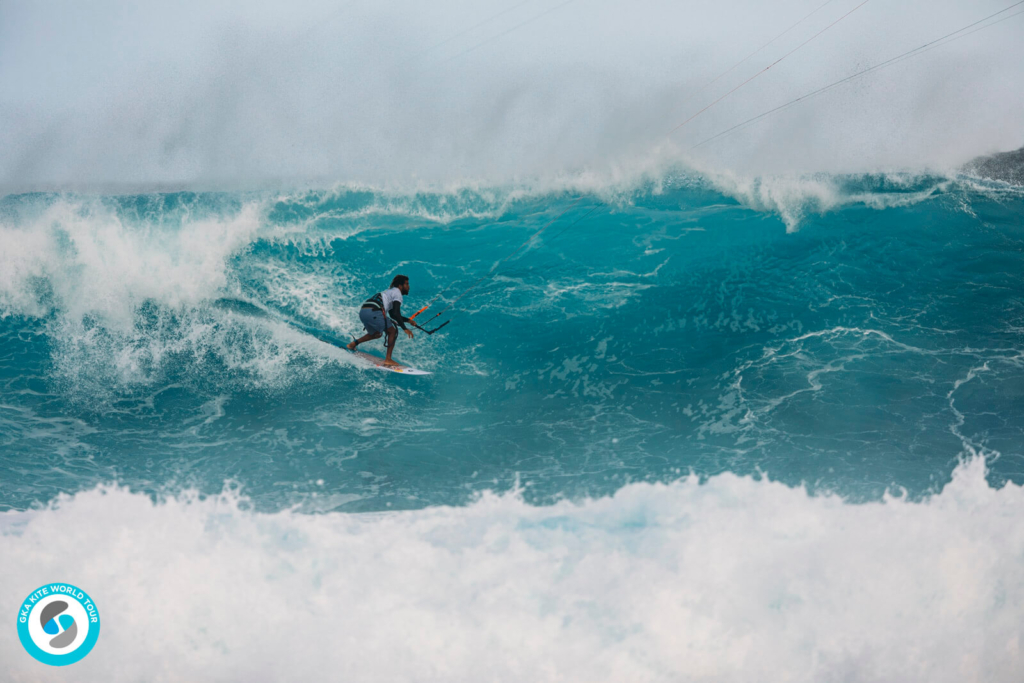 Ready to thread the needle
He was the first rider to go full throttle for a barrel, getting covered up for at least 15 metres; sadly not coming out, but his lines sliced the cascading lip sharply for several seconds and drew whoops from the judging tower. Aggression, high wave count and an extremely varied wave attack; his opponent Bart Labonne is a solid rider, and must have rued drawing Airton first round. Who doesn't?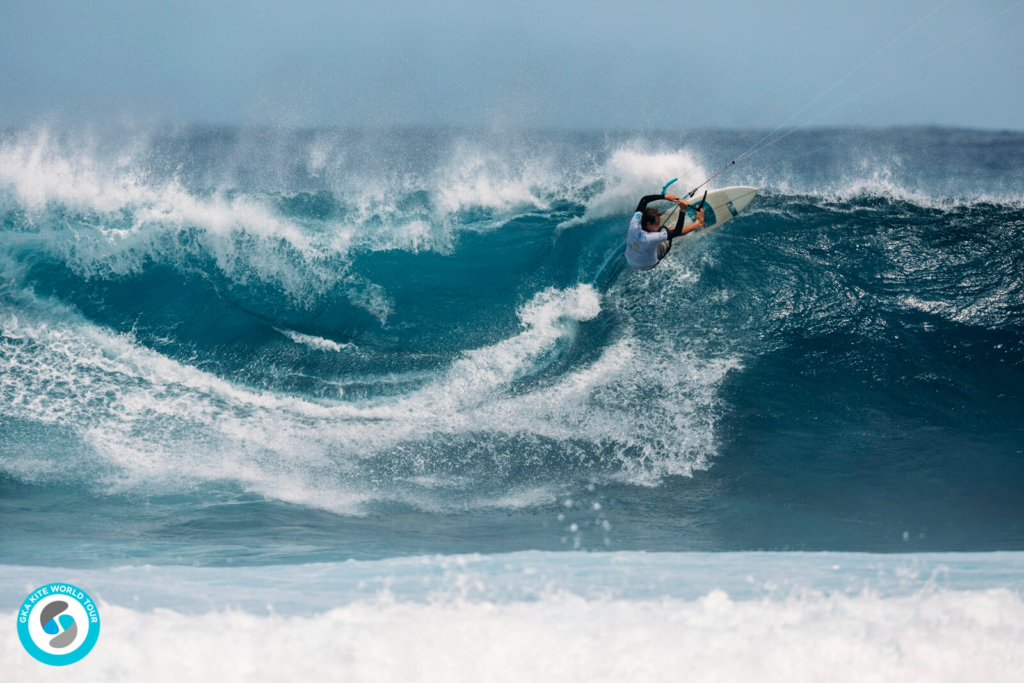 Charlie Wise
Elsewhere young guns Pedro Matos and Charlie Wise had a close backside / frontside battle. Brazilian Matos focussed more on trying to catch the bigger waves further upwind / deeper, obviously seeing an advantage with steady drawn out, smooth carves, while Charlie was very athletic on his front hand, working the smaller sections downwind, getting lots of turns on the inside. Matos took it by a whisker.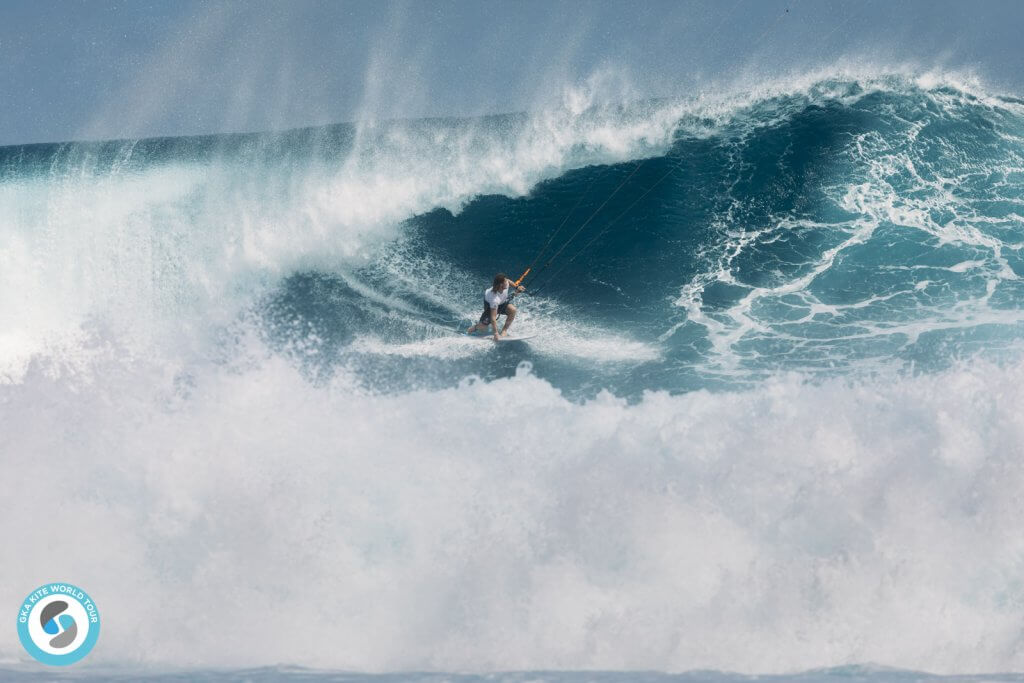 James Carew discovers a cave
The highlight of the day came in heat 9A: a battle between Duotone team mates, both backsiders; James Carew and Sebastian Ribeiro. James' wave count was not only high, but expertly selected – and he scored an outstanding 9.5 for a very deep barrel. Brave! Somehow Sebastian's wave selection just never panned out, whether it was down to wrong position, poor luck, or James just being a wave magnet…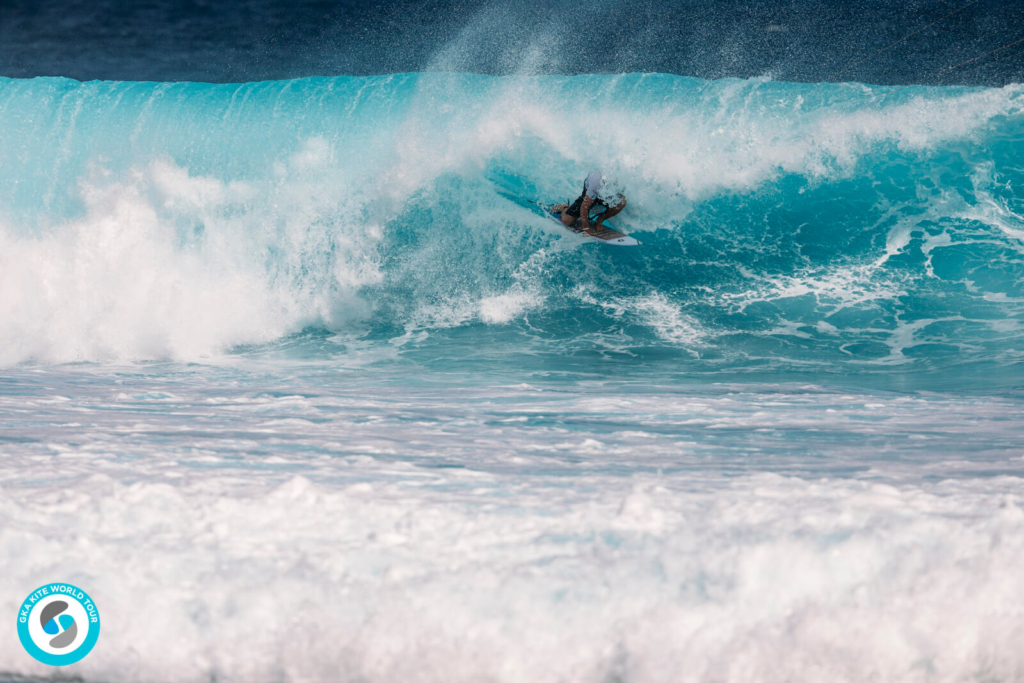 Carew Covered in glory – 9.5
Oswald Smith (also reached the quarter finals in Freestyle yesterday) recovered in his heat against Reece Myerscough after putting his kite in the drink on his first wave and then taking ten minutes trying to relaunch it in the strong current. In the end James Carew was still hanging around the reef to watch the action and kited over to swap kites with Ozzy. With five minutes left in the heat Ozzy found advantage being frontside compared to Reece's backside approach and seemed more comfortable in that stance on these waves, linking several turns on a few waves, managing to catch a biggish one too.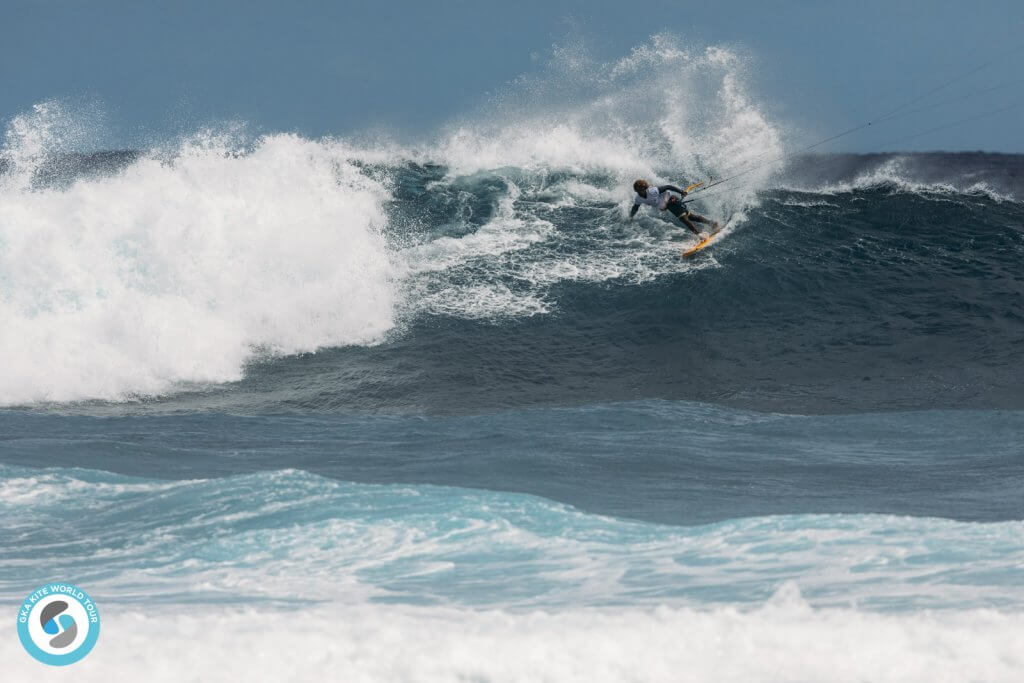 Mitu Monteiro knew when to change his game
Last heat of note, local shredder Willow-River Tonkin-Shakes versus the maestro Mitu Monteiro. Both locked into a full-on barrel hunt, catching great walls of water out back, knowing the reward for a barrel could be enough to win a heat with a single wave. They each had lots of attempts, but in the end realised the hunt wasn't proving successful (but was nevertheless respectable!), so registered a late flurry of turns, with Mitu proving he had the upper hand.
HEAT RESULTS FROM DAY 5
R2 HEAT 12 – HEAT POSTPONED
Kiko Roig Torres (ESP) V Jeremy Chan (MRU)
R2 HEAT 11B
(W) Jan Marcos Riveras (DR) 3.69 V Raoni Lemos (BRA) 2.13
R2 HEAT 11A
(W) Francesco Cappuzzo (ITA) 6.83 V Nicola Abadjiev (BUL) 6.13
R2: HEAT 10B
(W) Mitu Monteiro (CV) 10.74 V Willow River Tonkin (MRU) 6.17
R2: HEAT 10A
(W) Oswald Smith (RSA) 8.27 V Reece Myserscough (CAN) 6.53
R2: HEAT 9B
(W) Pedro Matos (BRA) 12.17 V Charlie Wise (AUS) 11.4
R2: HEAT 9A
James Carew (AUS) 15.83 V Sebastian Ribeiro (BRA) 10.07
R1: HEAT 8B:
(W) Graham Harney (CAN) V Jorn Donat (GER)
R1: HEAT 8A:
(W) Airton Cozzolino (CV / ITA) V Brendan Labonne (MRU)
R1: HEAT 7B:
(W) Jeremy Chan (MRU) V Toni Cilliberto (ITA)
R1: HEAT 7A:
(W) Kiko Roig Torres (ESP) V Alessandra D'Ambrosio (RSA)
R1: HEAT 6B:
Raoni Lemos (BRA) V Luke Millard (AUS)
R1: HEAT 6A:
(W) Jan Marcos Riveras (DR) V Daniel Kux (MRU)
R 1: HEAT 5B:
(W) Nicola Abadjiev (BUL) V Roderick Pijls (NED)
R1: HEAT 5A:
(W) Francesco Capuzzo (ITA) V Louis Marvin (MRU)
Here is the highlights video from the day:
Click here to keep up with the action as it unfolds – where KW editor Jim Gaunt is at the helm of the liveticker